---
Our Giclee process enables myphotopipe.com to print photographic images directly onto museum-quality canvas material. An acid-free & linen-free heavyweight cotton-poly blend, elegantly textured canvas features a non-reflective, matte surface with a bright white point, exceptionally high Dmax and wide color gamut.  The canvas base is enhanced with elastic polymers, providing high tensile strength and flexibility for gallery wrap stretching without cracking.
myphotopipe.com offers three different types of Canvas Wraps: Standard Wraps, Border Wraps, and Cluster Wraps.
---
Professional
---
Our exclusive line of Canvas Gallery Wraps are one of the finest products in the nation. Our price includes the print, stretching, wrapping, and hand inspection at myphotopipe.com.
Order
---
Upload your photo, select your wrap size, and we'll print your image using our state-of-the-art Epson P20000 on our supple, museum-quality canvas.
Quality
---
Our team will hand inspect and then professionally stretch and wrap your canvas around our hand-cut pine frames. All four corners are glued and nailed to create a bond that few can match.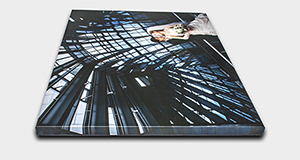 Standard Wraps
A canvas wrap is a method of stretching art canvas so that the canvas "wraps" around the sides of a wooden stretcher bar or strainer bar frame and securely attached.
Image appears on the front surface and wraps around edges of the frame.
Approximately 2" of image will not be visible from the front
Available in 5/8" & 1 5/8" depths
Order through online through Xpress or in the ROESPro software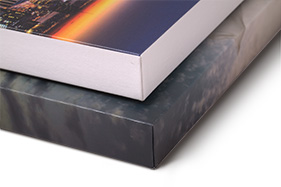 Canvas Boxes
Similar to canvas wraps in appearance, a canvas box provides sharp corners and edges for a "cleaner" appearance as opposed to the organic and softer canvas wrap. Art is adhered directly to a sturdy MDF box specially constructed for this purpose.
Available in solid color and natural wrap sides
18 different border color options
Sturdy 1½" depth on solid MDF construction
Order through ROESPro only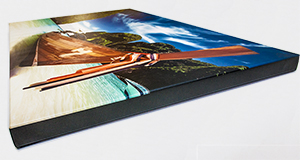 Border Wraps
Border Wraps are a similar process to Gallery Wraps. We offer the same two frame depths of 5/8″ and 1-5/8″.
If you require a custom border color not provided in our ROESPro but matches a portion of your image, please call Customer Service for the complete specifications and file information needed for your canvas wrap product size and we will instruct you on how to set up your file.
Great for reducing image loss
Preferred option when important areas are close to image edge
Sides have a solid color wrapped around edges
18 Different border color options
Available in both 5/8" & 1 5/8" depths
Order through ROESPro only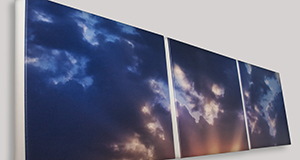 Cluster and Triptych Wraps
Cluster Wraps provide the ability to display multiple coordinating images in a grouping or "cluster", containing one image which is spread across multiple border wrapped canvases.
Display multiple coordinating images with border wrap canvases
Use one image spread across multiple canvases with our Mosaic option
18 Different border color options
Available in 1 5/8" depth
Many dynamic layouts to fit any environment
Order through ROESPro only